The Competition
As some of you already know, I was selected as one of the lucky finalists for the Australian Photography Magazine September competition this year. The theme for the competition was 'What Matters To Me'. I loved the idea of it because it was so broad which allowed for photographers to enter a range of different images. All entries that I saw were incredibly meaningful and exceptional in their own right. It was clear to me that a lot of people were very passionate about the subject.
The Ban
When I found out I was selected as one of the 23 finalists, I was ecstatic! When I found out which of my photos they chose, I was surprised – not because I didn't think the photo was worthy, but because of the content within it. My photograph, entitled Freedom of Expression, featured a beautiful woman standing tall with her arm over part her chest. She was proud. She was unique. She was…nude! 
I was positive this photograph was not posted on the Australian Photography Magazine Facebook page. Surely, they mixed up the names of the images I entered. Surely it was some kind of mistake…
After a few seconds of scrolling through their Facebook page, I saw it – the raw, dark photo I had taken only months before. There she was, just as proud and confident as ever. Her hair was matted and draped elegantly behind her. Her black tattoos, body paint and jewellery looked to have been placed carefully and specifically for this one shot. She was magnificent.
There was only one "problem" with my photograph. Just below my model's arm laid something so offensive and sinister. How could I have missed it before? How could I not have seen it? How could the magazine post it to Facebook without a second glance? It was so overt and shocking! It was… a female nipple!!
Obviously I am being sarcastic, but it seemed that some people in the Facebook community were not of the same mind. Even though I knew it was likely to be reported, I decided to give the network the benefit of the doubt and share the photo to my page. It lasted only hours before it was reported and removed by Facebook.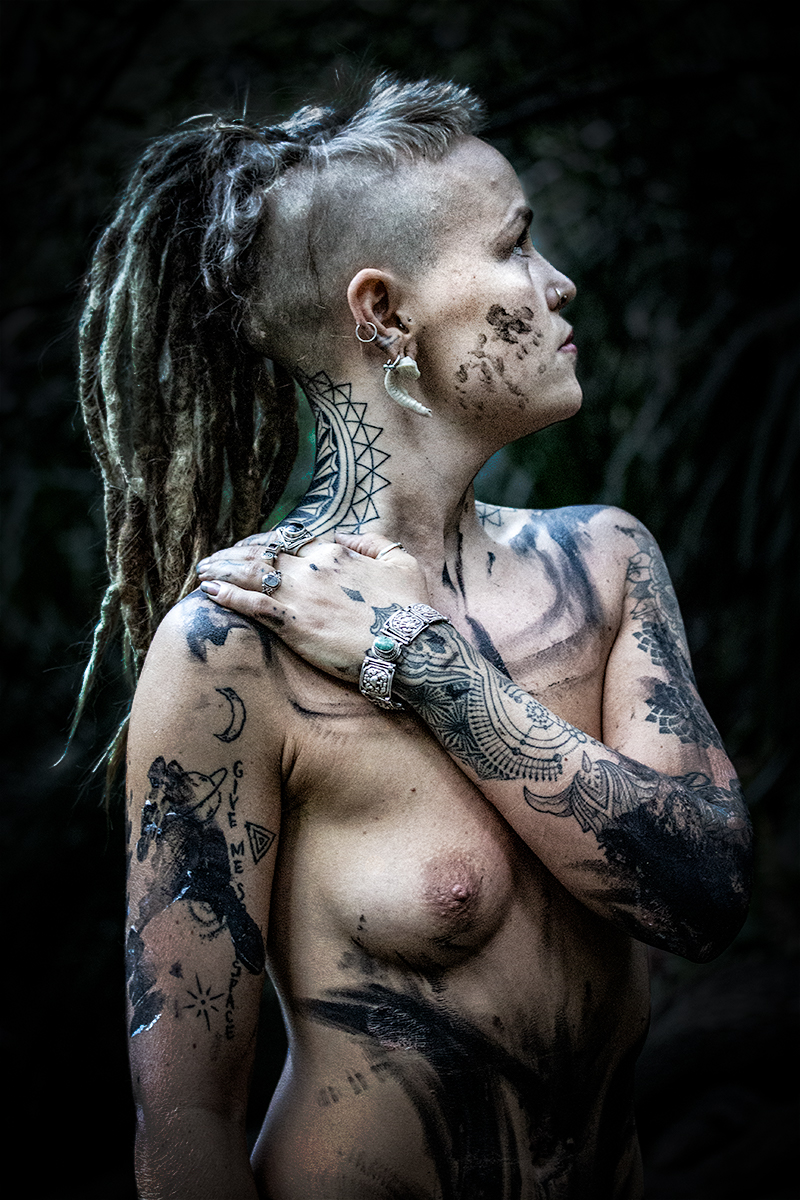 The Cause
I found it very ironic that I enter a photography contest with the theme 'What Matters To Me' with an image entitled Freedom of Expression and Facebook gives me the boot. It made me think about the people sitting behind their computers reporting these images while things that were actually offensive and harmful, floating around on the billion dollar network, were considered "appropriate".
I started to contemplate the world we live in and how backwards things are. Why are we sexualizing photographs like mine? Doesn't that send the wrong message? Why are we spending our days reporting and banning them when there are clearly some real issues we could be tackling together? Why does banning the female nipple seem to matter more to some than our climate, our healthcare, ending wars and creating a society where everyone is taken care of….and cared for?
Those are some of things that matter to me. That is why, instead of getting angry with Facebook and some of the lost souls reporting these photos (presumably to gain some kind of control and gratification in their lives where they have none), I decided to take this photo and make it something that matters – not only to me but to all of us.
I am selling limited edition prints (4×6 inches in size) of my photograph for a good cause. All profits from your purchase will go to the charity of your choice: NRDC, St. Jude Children's Research Hospital, UNICEF or The Innocence Project. Leave a note in your purchase of which one you would like to donate to. This is my way to protest and our way of giving back. So…what matters to you?
The Product
Title: Freedom of Expression ©2019
Artist: Nina Lipscombe
Model: Cathrine Karlsson
4×6 inch archival print
Limited edition (out of 250)
Printed on Hahnemühle Torchon fine art paper
Personally signed by the artist
Profits of sale go to a select charity of your choice
Includes shipping anywhere in the world
(click on the image to see full version and to purchase)
The Product
Title: Freedom of Expression ©2019
Artist: Nina Lipscombe
Model: Cathrine Karlsson
4×6 inch archival print
Limited edition (out of 250)
Printed on Hahnemühle Torchon fine art paper
Personally signed by the artist
Profits of sale go to a select charity of your choice
Includes shipping anywhere in the world
(click on the image to see full version and to purchase)